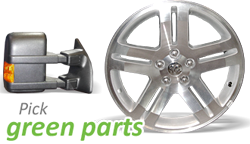 On Facebook
New arrivals : vehicles received, lots of available parts with photo
Promos
And other news...

We Buy Cars
Ready to say goodbye to your old car? We are part of ARPAC's scrappage program. Submit your request through their site to get a quote.
Get a quote
We Buy Scrap Metal
Metal Scale
Automobile, battery, radiator and condenser, mags, metals and more.


We Sell Car Parts
Used OEM parts of controlled quality for cars and trucks.
New parts
Aftermarket parts, affordable cost.
Warranty on parts.
Installation on location.
Delivery
Search for a part
We Sell Vehicles
Damaged and used, for rebuilding
or for parts.
Check out vehicles
Proud members
Nous respectons un code d'éthique établi et des normes environnementales strictes.

Canadian Auto Recyclers'
Environmental Code

Accredited in 2021
About
Located in rang 4 in Saint-Calixte (previously in Laplaine, Terrebonne), Recycleur Ste-Claire dismantles retired vehicles, while respecting strict environmental guidelines. This is how we can offer quality used OEM parts, of various brands (American, Japanese, Korean, etc.). We are at your service since 2015.